come back later to check for updates about events this summer.
---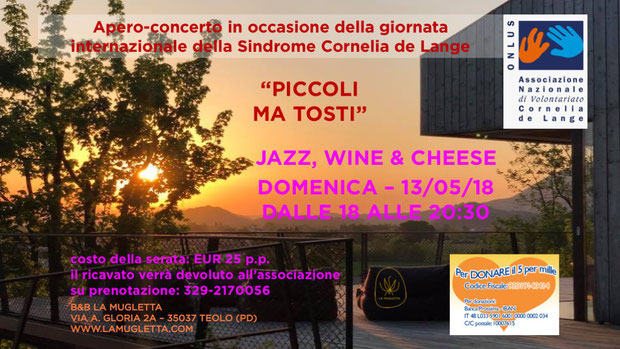 5 GENI – 5 VINI
Degustazione di 5 vini selezionati  dei Colli Euganei e Colli Berici presentati da ELENA CARDIN (Cantina Terra Felice):
Az. 

Agr

.

Reassi - PINELLO, vino frizzante

Cantina Terra Felice - MONTE RICCO, rosé frizzante

Quota 101 - TAI BIANCO

Piovene Porto Godi - TAI ROSSO

Il Pianzio - CORBINELLO 
abbinamento formaggi selezionati.
Il Modem Jazz Quintet composta da FRANCO ANDRAO (basso), PIERANTONIO TANZOLA (chitarra), EUGENIO PENDINI (voce), ENZO NARCISO (batteria) e CARLO SURIAN (sax) entonerá la serata. 
SU PRENOTAZIONE - 329-2170056 (cell, SMS, WhatsApp) oppure lamugletta@gmail.com
Costo della serata EUR 25 p.p. - il ricavato verrá devoluto all'Associazione Nazionale di Volontariato Cornelia de Lange ONLUS
---
we are very excited to have been selected to be part of the ARCHILOVERS website. Please visit the listing at http://www.archilovers.com/projects/209622/la-mugletta.html
we are very excited to have been featured in the online edition of ARKETIPO - architetura del fare - magazine. Please visit the listing at https://www.arketipomagazine.it/it/la-mugletta-a-monterosso-colli-euganei-pd-integrate-collective/. 
---
Siamo molto contenti ed onorati di essere stato selezionato ed inserito nel QUATTRORUOTE ELECTRIC TOUR 2017 di Ikea. 
Un ulteriore motivo per festeggiare la serata GREEN - Jazz & Vine - una serata non filtrata. 
Visit la Mugletta on the Electric Tour 2017 website - click below.
---
---
I BELLI DI NOTTE - 29.11.2017
incontro sul'emergenza ropsi e come intervenire per aiutare a salvare / proteggere i animali durante la loro stagione di migrazione. 
SOS anfibi
LIPU
CENA DELL'OCA - 10.11.2017
La Mugletta è lieto di ospitare questo evento:
L´Istituto di Cultura Italo Tedesco di Padova e la Comunità Luterana di Venezia Vi invitiamo cordialmente per una 

Cena dell´oca di S. Martino con le storie del Santo (e perché Lutero è stato battezzato sul questo nome) e delle canzoni serali tedesche

 

Venerdì il 10 novembre alle ore 19.30

presso la Mugletta - Via A. Gloria, 2A

In lingua tedesca e italiana 

 

Prezzo: 32 € per adulti; 16 € per ragazzi (primo, secondo, dolce e vino incluso) 

evento senza scopo di lucro

 

Solo su prenatoazione:

Prenotazione fino al 7 novembre: umugler@gmail.com, cell. 3292170056
---
CERAMIC WORKSHOP WITH ROBERT COOPER
---
Listen to the Music & Enjoy Summertime
ENJOY SUMMERTIME: Jazz e musica Swing, degustazione dei vini dell'azienda Urbano Salvan, pizza e porchetta mentre si gode il tramonto dalla terrazza panoramica de La Mugletta. Questo era il tema per la serata de domenica, 16 Luglio 2017, dalle ore 19 alle ore 21.
Musik: MODEM JAZZ X-TET
Weine: AZIENDA AGRICOLA URBANO SALVAN
---
Jazz & Wine - una serata non filtrata
08 Aprile 2017
DOUBLE GUITAR JAZZ QUARTET
AZ. AGR. BIOLOGICA ALLA COSTIERA - Serprino, Terre Bianche (Garganego), Carmenère, Fior d'Arancia DOCG
FRANCESCO DA BROI - erbe spontanee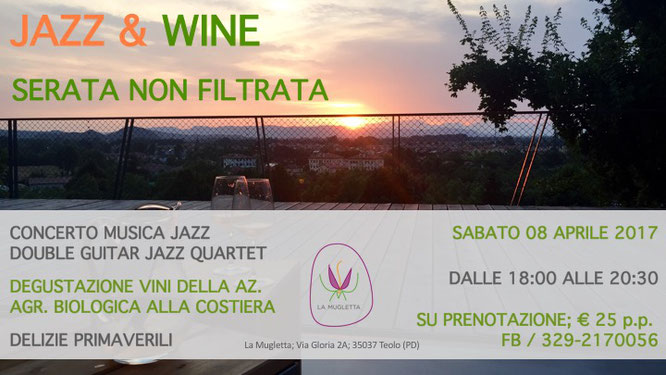 ---
Ciotoliamo 2° edizione 
30. Novembre 2016   workshop di ceramica per la creazione de ciotole con varie tecniche
Sporchiamoci le mani ... ciotoliamo
24. Novembre 2016   workshop di ceramica per la creazione de ciotole con varie tecniche
---
Una serata Felice di Jazz
31. Ottobre 2016 
DOUBLE GUITAR JAZZ QUARTET
TERRA FELICE - Chardonnay (2014), Monte Ricco Rosè (2014) e Pianoro (2013)
FORMAGGI: Asiago DOP stravecchio 18 mesi - Latteria Sociale di Trissino (VI); Grana Padano DOP stagionato 24 mesi e Latteria sotto il fieno - Caseificio Sociale di Ponte di Barbarano (VI); Grotte di Montegalda formaggio di capra stagionato 6 mesi in Grotta - La Capreria di Montegalda (VI).